Presented by Chris Mohr, PhD, RD, and Kara Mohr, PhD
Presented on Thursday, October 29, 2020 from 2-3 p.m. ET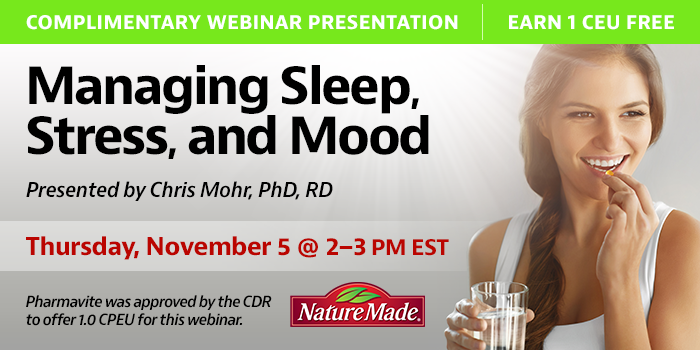 Managing Sleep, Stress, and Mood
Sponsored by Nature Made
Presented by Chris Mohr, PhD, RD, and Kara Mohr, PhD
Presented on Thursday, November 5, 2020 from 2-3 p.m. ET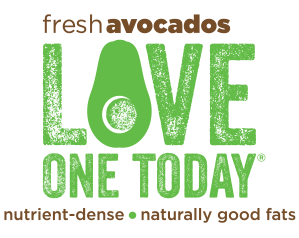 Weight-Inclusive Care: Evidence and Best Practices 
Written by Janice Dada, MPH, RDN, CDCES
This special continuing education supplement is complimentary thanks to the support of our sponsor, Hass Avocado Board
Written by Michelle Routhenstein, MS, RD, CDE, CDN
This special continuing education supplement is complimentary thanks to the support of our sponsor, Hass Avocado Board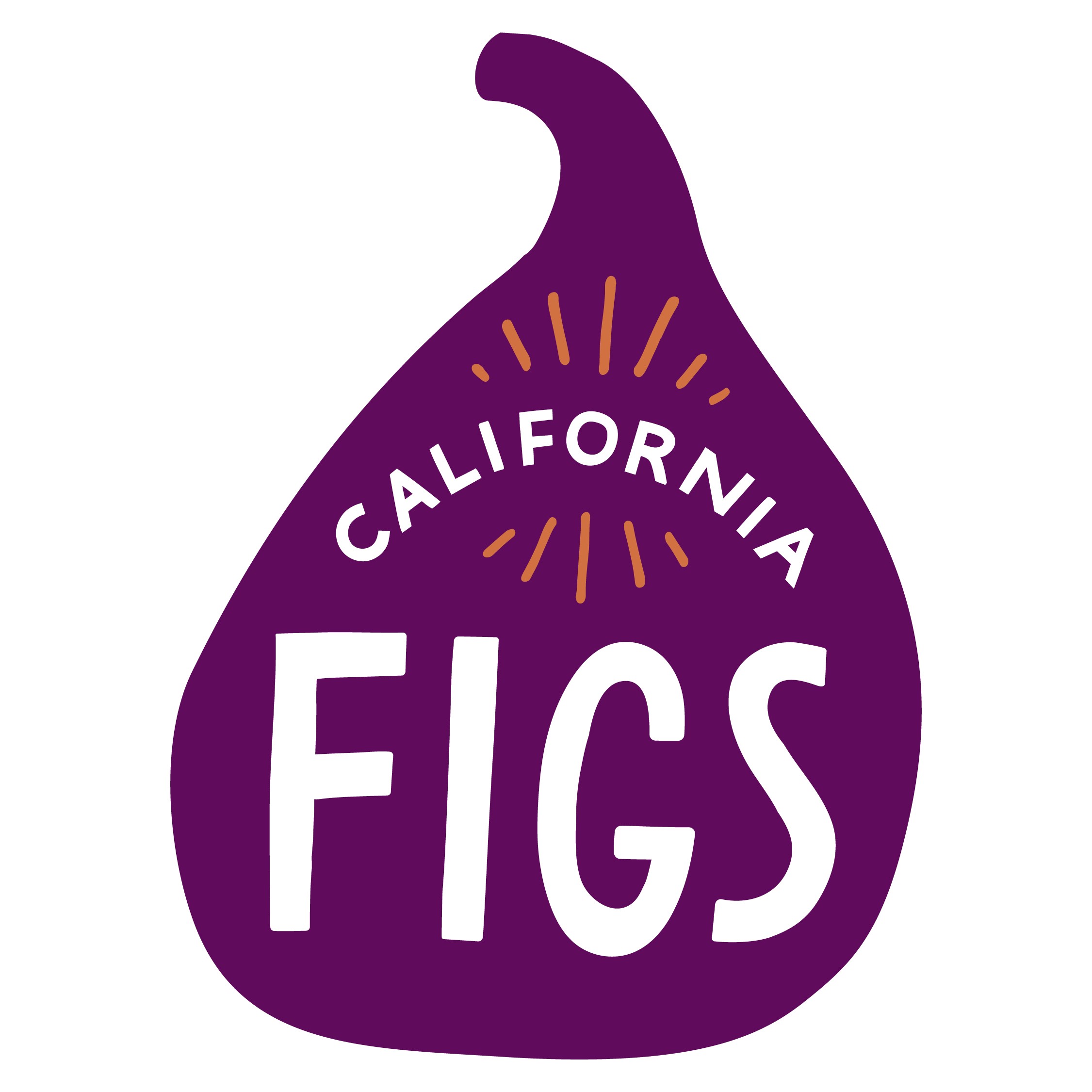 Nutrition and Sports Injuries
Written by Natalie Robertello, MS, RDN, CSSD, CDN
This special continuing education supplement is complementary thanks to the support of our partner, California Figs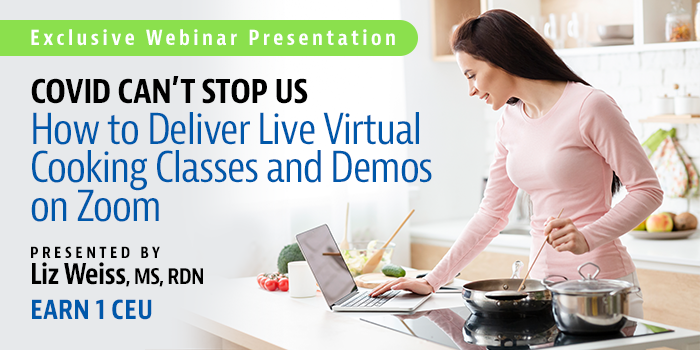 COVID Can't Stop Us: How to Deliver Live Virtual Cooking Classes and Demos on Zoom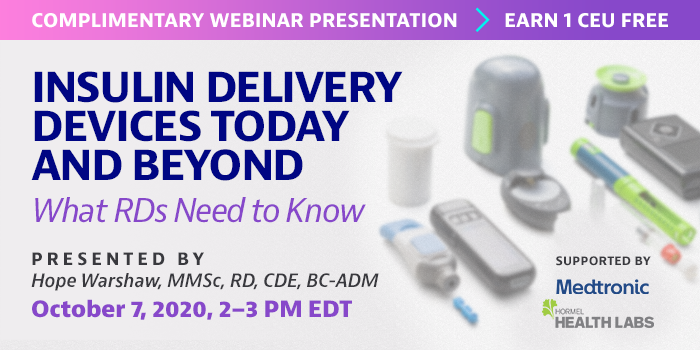 Insulin Delivery Devices Today and Beyond: What RDs Need to Know
Presented by Hope Warshaw, MMSc, RD, CDE, BC-ADM
Presented on Wednesday, October 7, 2020 from 2-3 p.m. EDT
Supported by Medtronic and Hormel Health Labs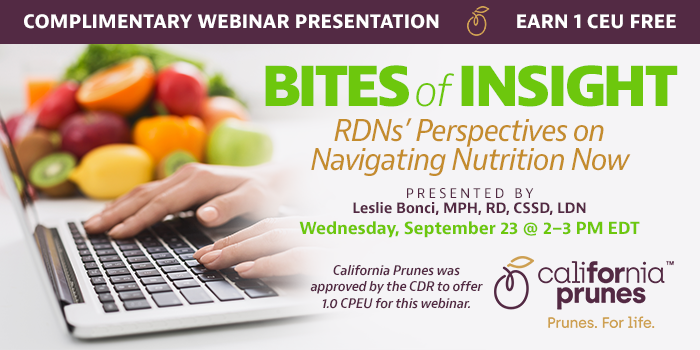 Bites of Insight: RDNs' Perspectives on Navigating Nutrition Now
Sponsored by California Prunes
Presented by Leslie Bonci, MPH, RD, CSSD, LDN
Presented on Wednesday, September 23, 2020 from 2-3 p.m. EDT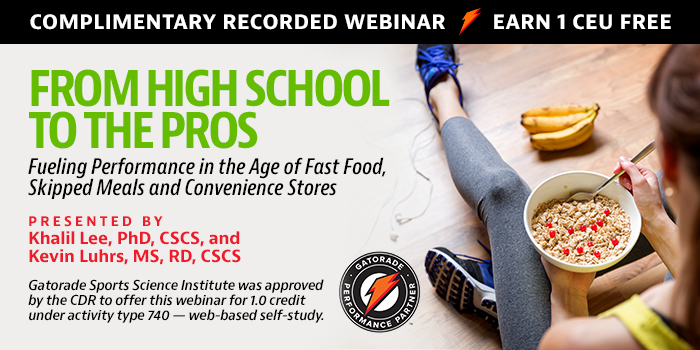 From High School to the Pros: Fueling Performance in the Age of Fast Food, Skipped Meals, and Convenience Stores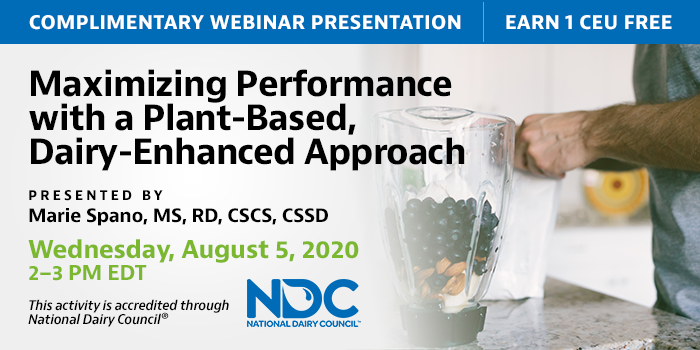 Maximizing Performance with a Plant-Based, Dairy-Enhanced Approach
Sponsored and accredited by National Dairy Council
Presented by Marie Spano, MS, RD, CSCS, CSSD
Presented on Wednesday, August 5, 2020 from 2-3 p.m. EDT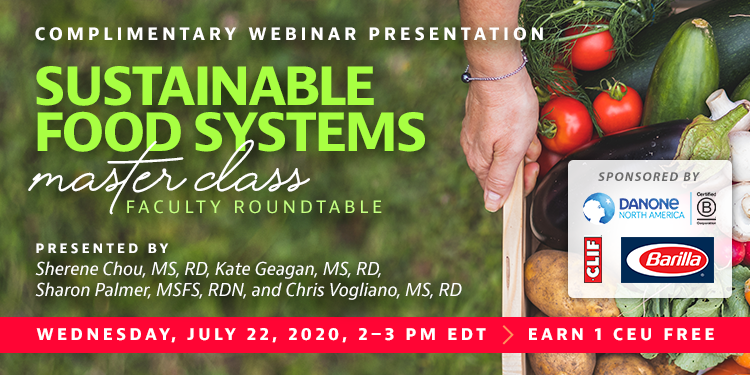 Sustainable Food Systems Master Class: Faculty Roundtable
Sponsored by Danone, CLIF Bar & Company, and Barilla
Presented by Sherene Chou, Kate Geagan, Sharon Palmer, and Chris Vogliano
Presented on Wednesday, July 22, 2020 from 2-3 p.m. EDT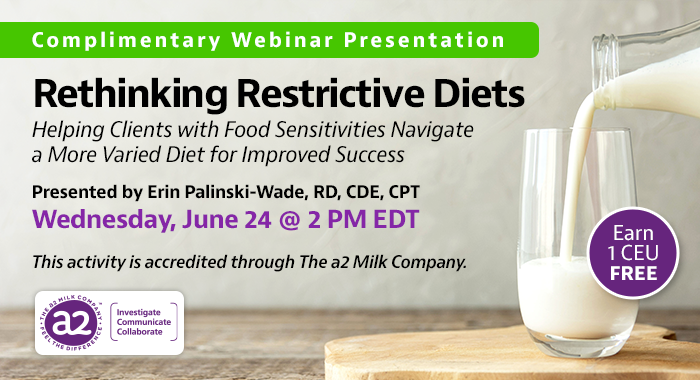 Rethinking Restrictive Diets: Helping Clients with Food Sensitivities Navigate a More Varied Diet for Improved Success
Sponsored and accredited by The a2 Milk Company
Presented by Erin Palinski-Wade, RD, CDE, CPT
Presented on Wednesday, June 24, 2020 from 2-3 p.m. EDT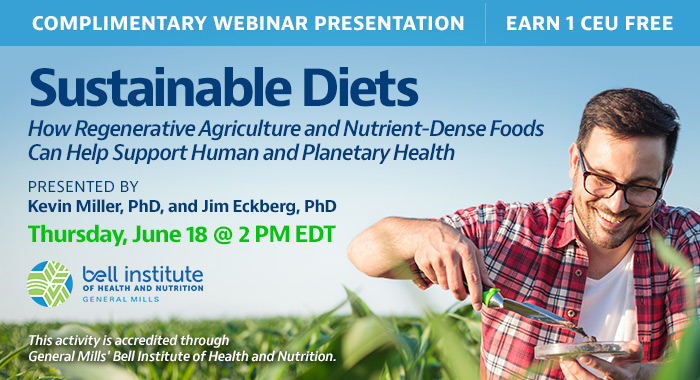 Sustainable Diets: How Regenerative Agriculture and Nutrient-Dense Foods Can Help Support Human and Planetary Health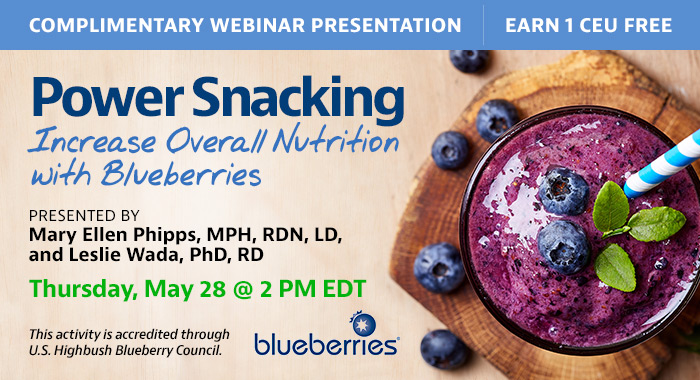 Power Snacking: Increase Overall Nutrition with Blueberries
Sponsored and accredited by US Highbush Blueberry Council
Presented by Mary Ellen Phipps, MPH, RDN, LD and Leslie Wada, PhD, RD
Presented on Thursday, May 28, 2020 from 2-3 p.m. EST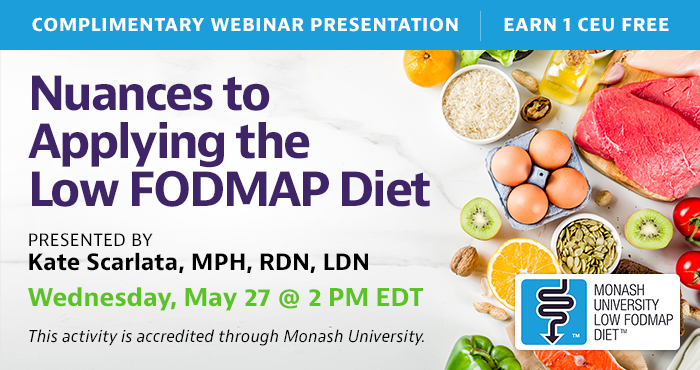 Nuances to Applying the Low FODMAP Diet
Sponsored and accredited by Monash University
Presented by Kate Scarlata, MPH, RDN, LDN
Presented on Wednesday, May 27, 2020 from 2-3 p.m. EST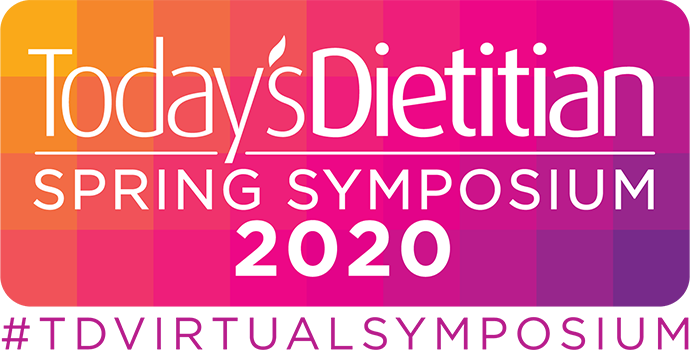 Sustainable Food Systems Master Class
Sponsored by Danone, CLIF Bar & Company, and Barilla
Presented by Sherene Chou, Kate Geagan, Sharon Palmer, and Chris Vogliano
Presented on Wednesday, May 20, 2020 from 10 a.m. - 2 p.m. ET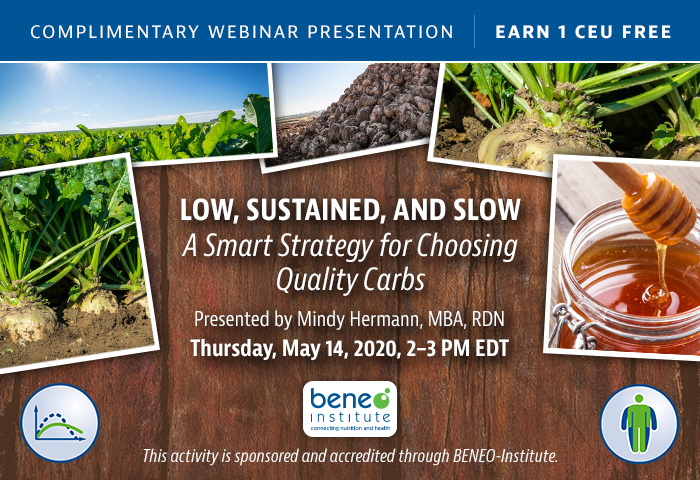 Low, Sustained, and Slow: A Smart Strategy for Choosing Quality Carbs
Sponsored and accredited by BENEO-Institute
Presented by Mindy Hermann, MBA, RDN
Presented on Thursday, May 14, 2020 from 2-3 p.m. EST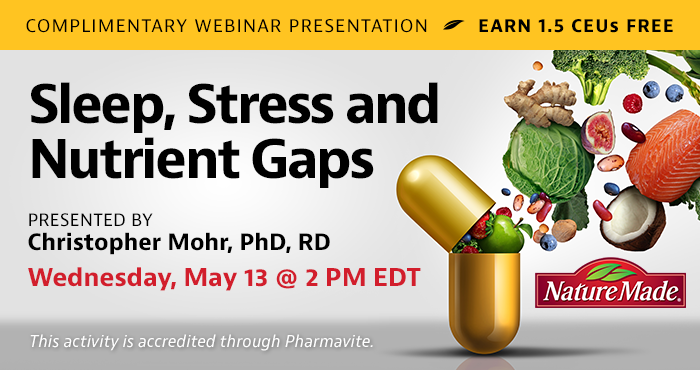 Sleep, Stress, and Nutrient Gaps
Sponsored by NatureMade
Presented by Christopher Mohr, PhD, RD
Presented on Wednesday, May 13, 2020 from 2-3 p.m. EST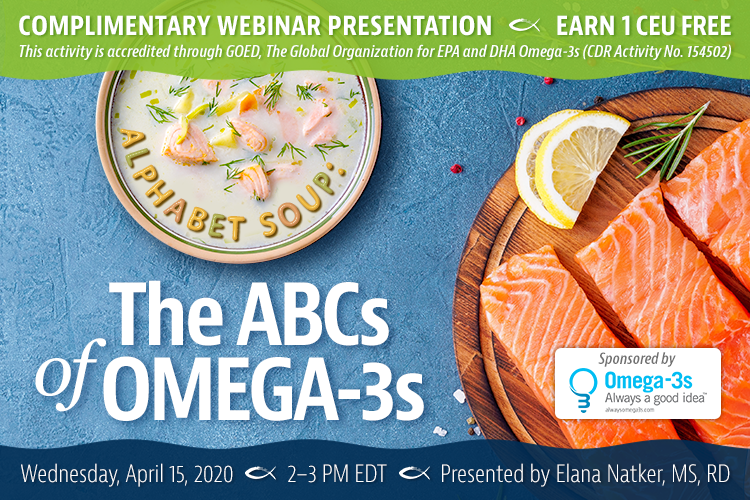 Alphabet Soup: The ABCs of Omega-3s
Sponsored by AlwaysOmega3s.com
Presented by Elana Natker, MS, RD
Presented on Wednesday, April 15, 2020 from 2-3 p.m. EST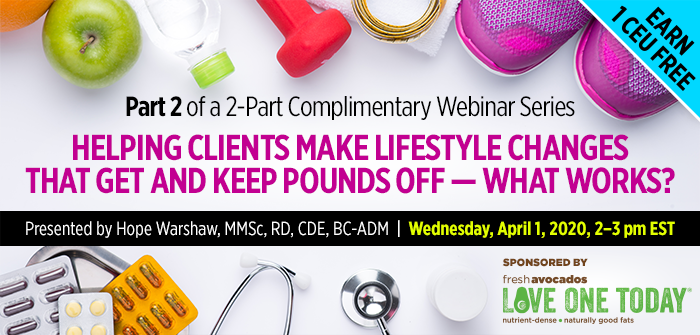 Helping Clients Make Lifestyle Changes That Get and Keep Pounds Off - What Works?
(Part 2)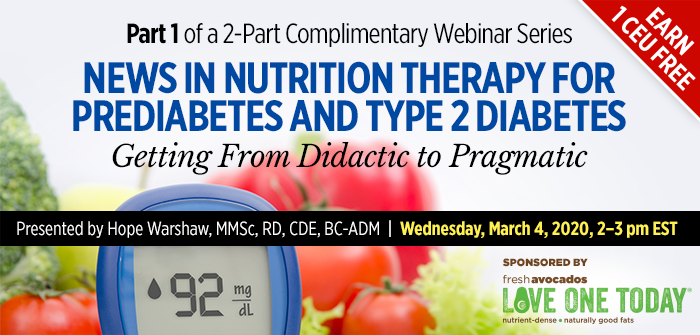 News in Nutrition Therapy for Prediabetes and Type 2 Diabetes: Getting From Didactic to Pragmatic
(Part 1)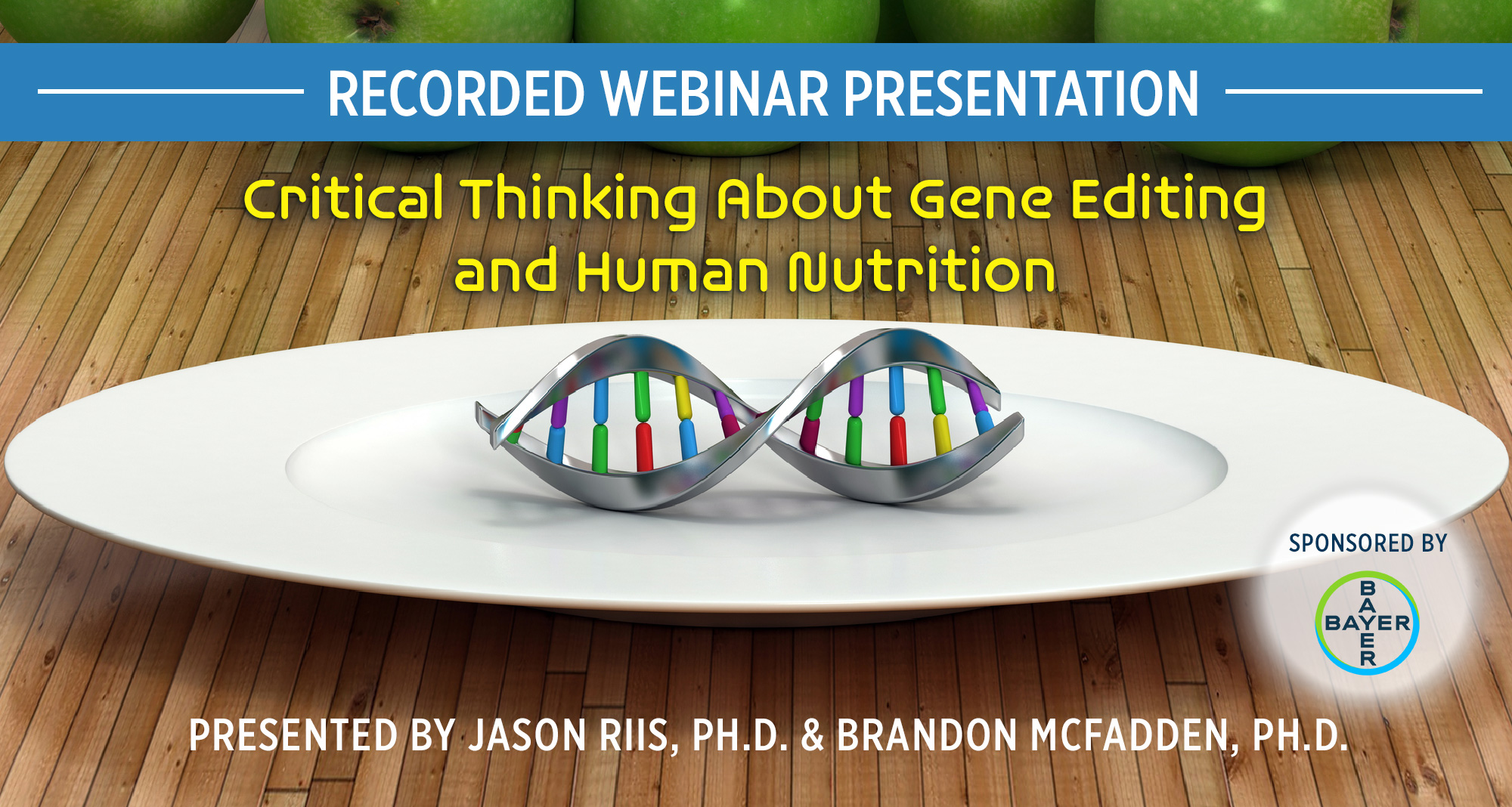 Critical Thinking About Gene Editing and Human Nutrition
Sponsored by Bayer
Presented by Jason Riis, PhD and Brandon McFadden, PhD
Presented on Thursday, January 23, 2020 from 2-3 p.m. EST

Childhood Obesity Through the Eyes of Hispanic Families: The Impact of Feeding Practices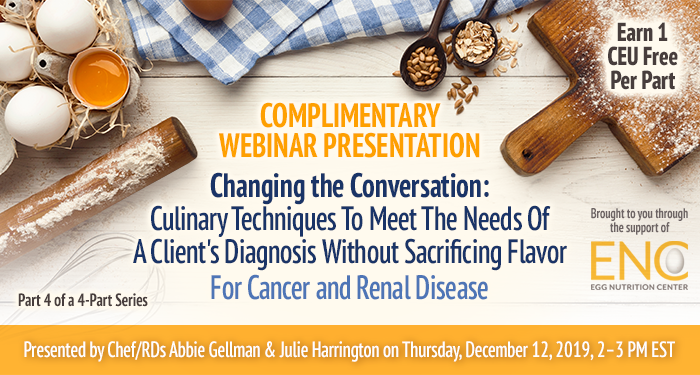 Changing the Conversation: Culinary Techniques for Cancer and Renal Disease (Part 4) 
Sponsored by Egg Nutrition Center
Presented by Chef Abbie Gellman, MS, RD, CDN and Chef Julie Harrington, RD
Presented on Thursday, December 12, 2019 from 2-3 p.m. ET
Update: What's New in the World of Carbohydrates
Sponsored by Barilla
Presented by Joanne Slavin, PhD, RD, Professor
Presented on Thursday, October 10, 2019 from 2-3 p.m. ET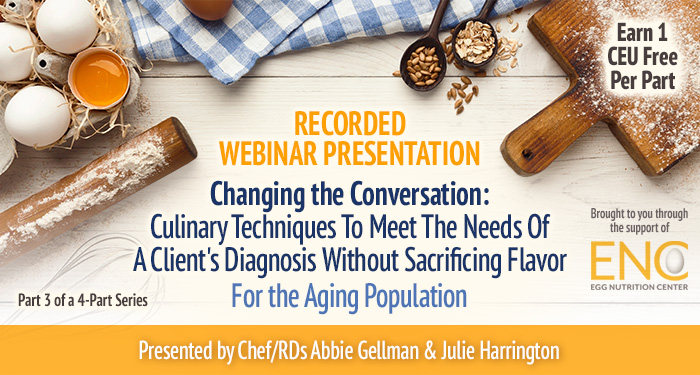 Changing the Conversation: Culinary Techniques to Meet the Needs of the Aging Population (Part 3)
Sponsored by Egg Nutrition Center
Presented by Chef Abbie Gellman, MS, RD, CDN and Chef Julie Harrington, RD
Presented on Thursday, September 19, 2019, from 2–3 PM ET.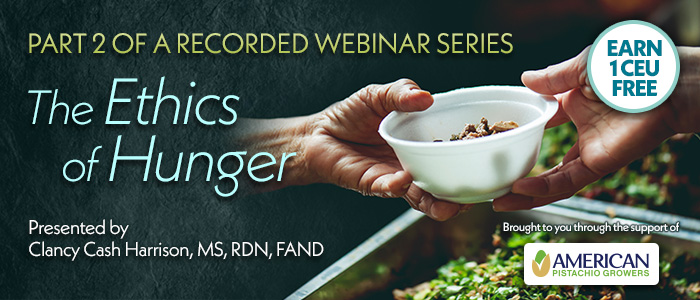 The Ethics of Hunger (Part 2)
Sponsored by American Pistachio Growers
Presented by Clancy Cash Harrison, MS, RDN, FAND
Presented on Wednesday, September 18, 2019 from 2-3pm. ET.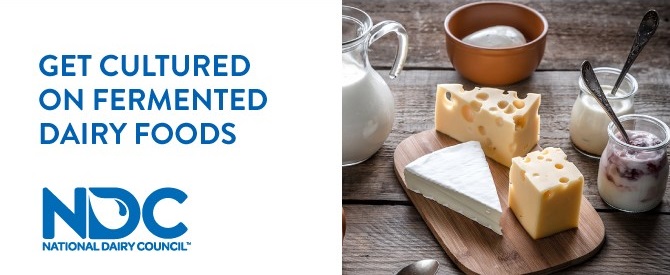 Get Cultured on Fermented Dairy Foods

Fat or Fiction: The Science of Whole Milk Dairy Foods within Healthy Eating Patterns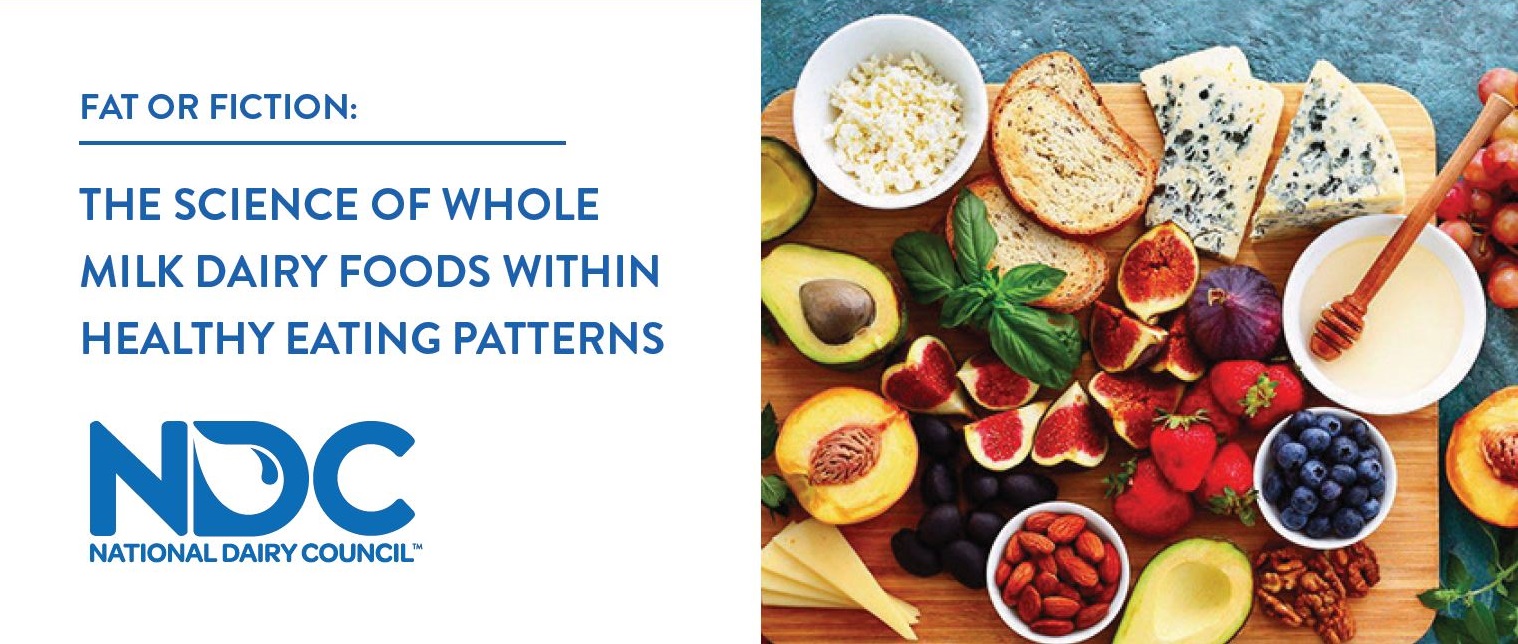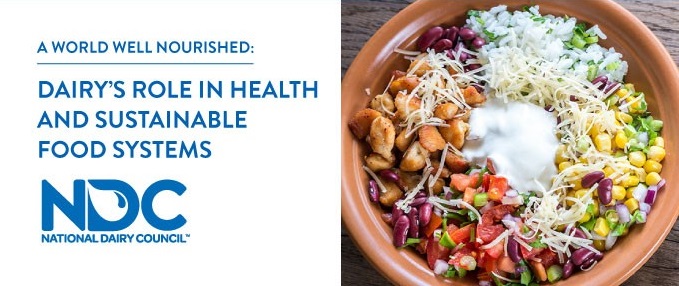 A World Well Nourished: Dairy's Role in Health and Sustainable Food Systems